Premier League ads warn pubs over using foreign set-top boxes
Thu 16th Feb 2012 | Legal
The Premier League is to launch an ad campaign warning pubs and clubs that it intends to crack down on unauthorised broadcasts of football matches using foreign satellite feeds.
The campaign is being backed by BSkyB which holds the UK rights to offer Premier League football matches to UK pubs and clubs.
The full-page ad, which is running in key titles read by publicans such as the Morning Advertiser, is pitched as a legal warning shot to the estimated thousands of pubs and clubs that side-step BSkyB by taking cheap foreign satellite feeds.
BSkyB has about 44,000 pub, club and office subscribers to its Premier League football packages at a cost of about £1,000 per month.
The Premier League has felt emboldened to run the ads following two judgments delivered by the European Court of Justice in recent months.
The first related to a case brought by Portsmouth pub landlady Karen Murphy who used a Greek decoder card to show live Premier League matches to pubgoers at a fraction of the rate charged by Sky.
The ECJ ruled that fans at home could buy foreign set-top box decoder cards from foreign broadcasters, but that the Premier League could go after pubs and clubs on the grounds of copyright infringement.
The UK's high court of justice will make a final decision on how to apply the ECJ ruling to the Murphy case on 24 February.
However, the Premier League and BSkyB consider a second ruling to be much more material to the battle against unauthorised broadcasts.
On 3 February the UK court delivered its judgment on an ECJ ruling relating to a company called QC Leisure, a provider of Greek and Arabic decoder cards to publicans in the UK.
The ad being run by the Premier League warns publicans that this ruling has clarified its right to pursue unauthorised broadcasters.
"It is clear that the law gives us the right to prevent the unauthorised use of our copyrights in pubs and clubs when they are communicated to the public without our authority," says text in the ad. "We will now resume actions against publicans."
The knock-on effect of the UK court ruling earlier this month is that another major supplier of foreign set-top boxes and cards, Euroview, has in the last few days shut down its current business operation.
A statement on its website informs customers that it is cancelling contracts from the 10 February.
"To fully protect the business of its customers Euroview Sport is now investing in making changes to its service which will ensure that it offers a risk-free solution which does not infringe the rights of the FAPL or any other third party," the company said. "Until these changes are fully effected Euroview has made the decision to temporarily suspend its services."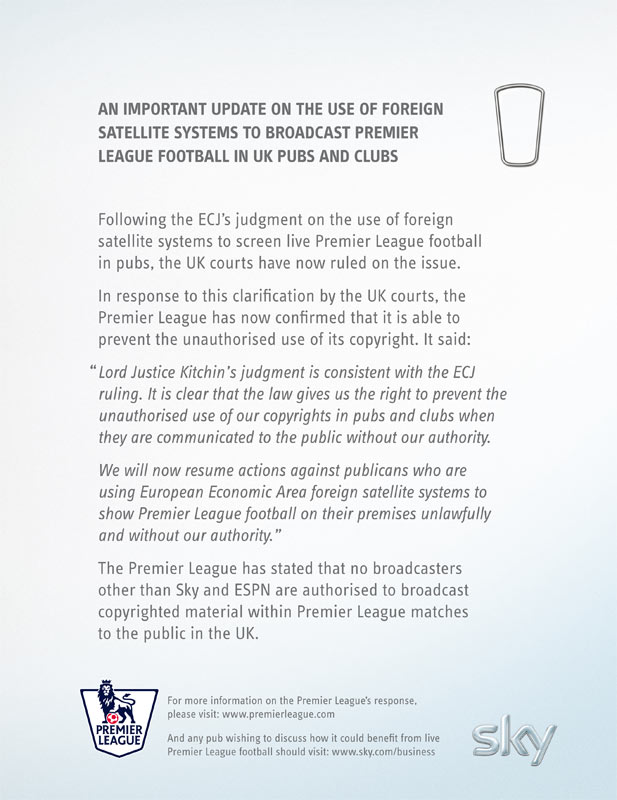 ---------------------------------------------------------------------------------------------------
SUBSCRIBE TO THE FCBUSINESS RSS FEED
If you have any football business related news stories you'd like to share then please contact us –agourley@fcbusiness.co.uk or ryan@fcbusiness.co.uk
Related Articles